8 STARTUPS FROM 8 DIFFERENT COUNTRIES IN THE OPENING DAY OF THE THIRD EDITION OF FISHING TECH
The concept seems simple: Fishing Tech wants to tackle challenges presented by the fishing industry developing pilots between world-class experts and cutting edge technology solutions, some of them already tested successfully in other sectors.
Fishing Tech can achieve this goal thanks to its corporate partners such as Grupo Frigoríficos del Morrazo, Lanzal, Opromar, Orpagu, Perupez and Pescapuerta. Companies with innovation as one of their core values. They selected their best fits among the companies presented during the scouting phase of the program to address the challenges they had previously scoped together with the Fishing Tech team.

Yesterday's meeting was the Opening Day of the Third Edition of Fishing Tech. We were honored to host companies from Switzerland, Norway, Cyprus, Denmark, France, USA, UK and Spain. They showed solutions in different matters such as freeze control, real time capture vision, AI, solutions to improve telecommunications and compaction on board, crew management, software for the optimization of fishing activity and even an self driven underwater vehicle with potential to revolutionize trawling fisheries.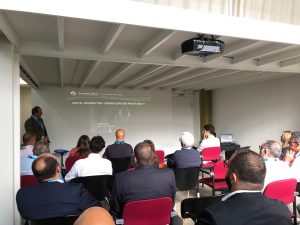 The results from yesterday's meetings between corporates partners and the technologies will be shared later on the year. The good environment and the will to make things happen shows, once again, that open innovation and collaboration with world leaders is the way to progress in this sector.
Fishing Tech will continue to work in this way to achieve great things in the fishing industry.